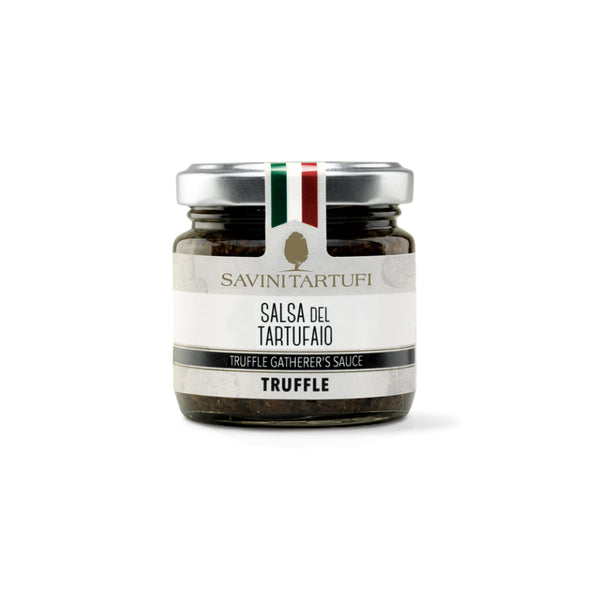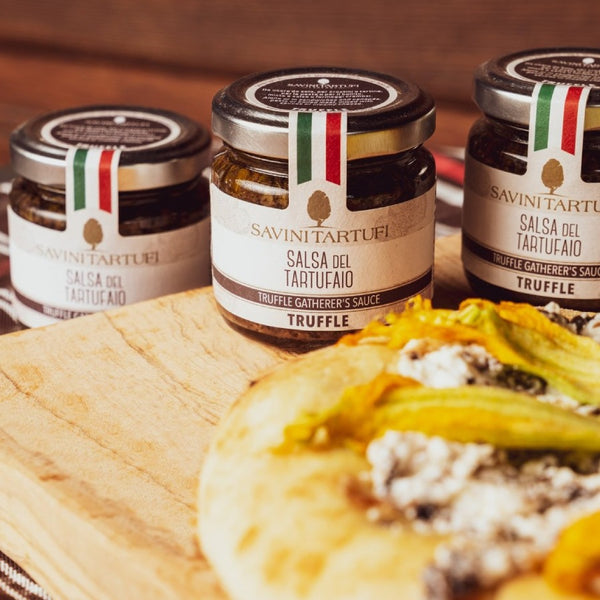 Tartufaio Sauce by Savini Tartufi (litteraly "truffle gatherer sauce") is a sauce that proposes one of the most successful combinations: that of truffles with mushrooms. The truffle used for this preparation is Tuber aestivum Vitt., commonly known as Summer Truffle or Black Scorzone Truffle. Perfect to use on bruschetta and canapés, as a pasta sauce or with boiled meat, or even mixed with sauces and creamy cheeses.
Storage condition: the product may be stored at room temperature in a cool place, away from direct sunlight. Once open, it must be kept in the fridge at 0 to +4 °C and used up within a few days.
Ingredients: champignon mushrooms (Agaricus bisporus), olive oil, olives, summer truffle (Tuber aestivum Vitt.) 3%, capers, anchovies, flavourings, sunflower oil, herbs, yeast extract, salt, spice, natural flavourings. Mushroom content: 70 g for 100 g of product.
Nutrition Declaration per 100 g of product: Energy 637 kJ (147 kcal), Fat 12 g (of which saturates 1,8 g), Carbohydrate 1,8 g (of which sugars 0,7 g), Protein 2,4 g, Salt 1,5 g.
Size: 180g

Amarone della Valpolicella
Amarone della Valpolicella, or most commonly known as "Amarone'', is one of the most famous Italian wines, notoriousl...
The Ultimate Guide to Vegan Wine
How to know if a wine is Vegan? Unfortunately, not all wine is vegan. This may be a shock to many... While you might think that wines are simply fermented grape juice, so they must be vegan, you are sadly mistaken...