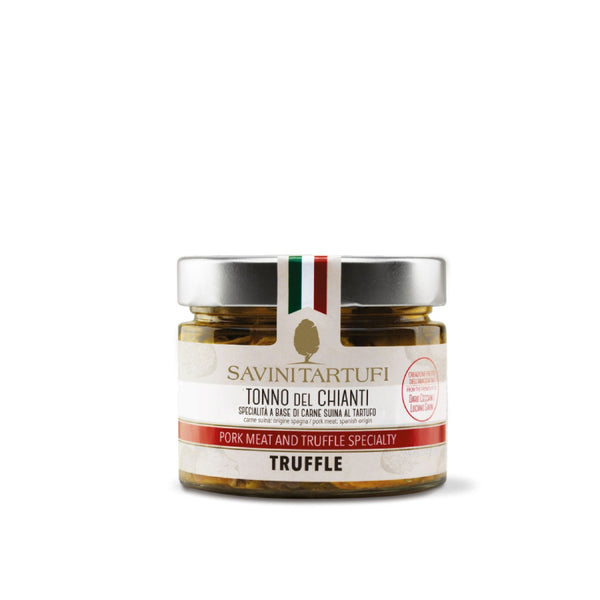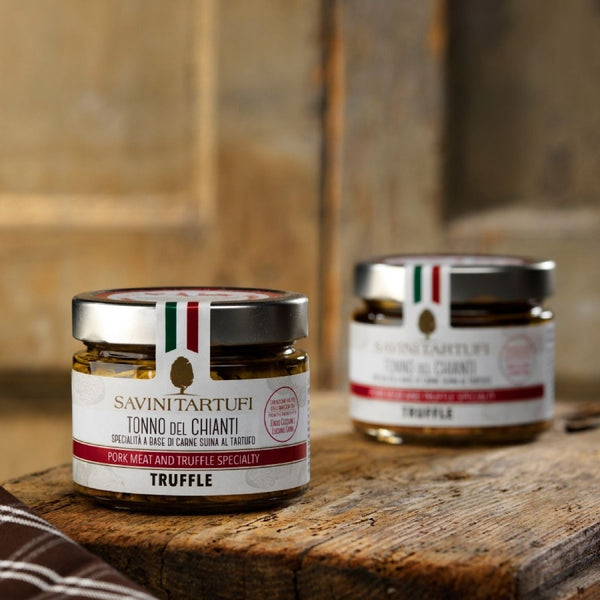 Pork meat-based speciality with truffle. "Tonno del Chianti" has been prepared in Tuscan kitchens for generations. In ancient times farmers in the Chianti region, not yet having refrigerators and freezers, preserved the meat of young pigs in this way. The name derives from the fact that the meat, the following cooking in wine and marinating in oil, takes on a consistency very similar to that of tuna, the colour is a light hazelnut and the flavour and aroma are very similar to that of tuna. Dario Cecchini recommends serving it classically, with Tuscan beans and onion, but also with chickpeas or simply on its own.
"My most famous recipe. Boneless pork leg, salted and then boiled in white wine. Defatted and put in oil with truffle by my dear friend Luciano Savini. A Tuna of our Toscana. For tasting it just cut and season with extra virgin olive oil." Dario Cecchini
Sales unit: 280 g
Storage condition: the product may be stored at room temperature, in a cool place, away from direct sunlight. after opening keep it refrigerated between 0 and +4 °C and use within a few days.
Ingredients: pork meat 62%, extra virgin olive oil, Italian summer truffle (Tuber aestivum Vitt.) 3%, wine, salt, flavouring, herb. Contains sulphites and may contain traces of gluten, milk, celery, eggs and mustard. Pork meat: EU origin.
Nutrition Declaration per 100 g of product Energy: 1071kj (256 kcal), Fat 14,7g (of which saturates 2,9g), Carbohydrate 2.9g, Fibre 2,8g, Protein 29,2g, Salt 1,53g.
Amarone della Valpolicella
Amarone della Valpolicella, or most commonly known as "Amarone'', is one of the most famous Italian wines, notoriousl...
The Ultimate Guide to Vegan Wine
How to know if a wine is Vegan? Unfortunately, not all wine is vegan. This may be a shock to many... While you might think that wines are simply fermented grape juice, so they must be vegan, you are sadly mistaken...