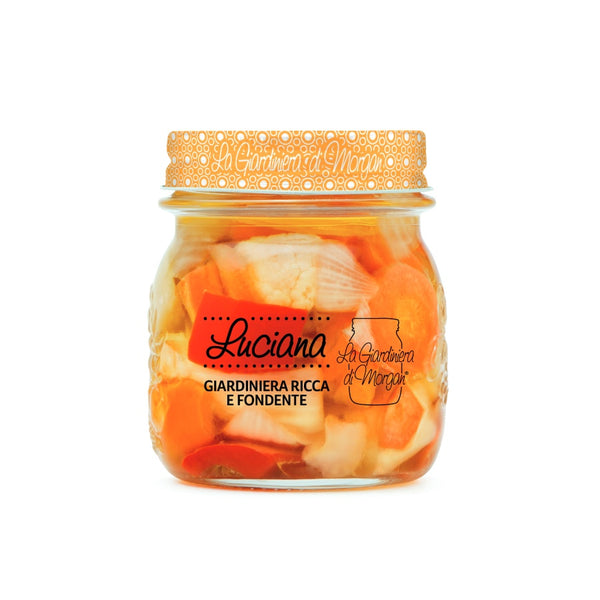 Rich Giardiniera
A richer, more sapid fusion of flavours. After the vegetables have been cut by hand and cooked separately, they are left in a sweet and sour marinade and then put in jars along with mixed oil.

Ingredients
vegetables in varying proportions: (carrots, fennel, CELERY, cauliflowers, red peppers, yellow peppers, white onions (naturally containing SULPHITES), sunflower oil, extra virgin olive oil, white wine vinegar, water, whole sea Cervia salt, sugar.

How to use
A versatile product, perfect for a tasty aperitif or with cold cuts and cheese. Outstanding with oven-baked fish and salads.

How to keep it
Store it in a cool place away from sources of light. Pasteurized product.

Nutritional values

Energy value: 287 kj - 69 kcal
Fat of which saturated: 2,6 g – 0,1 g
Carbs of which sugars: 9,1 g – 7,6 g
Proteins: 1,1 g
Salt: 0,74 g
Additional info
Format: 250 ml

Amarone della Valpolicella
Amarone della Valpolicella, or most commonly known as "Amarone'', is one of the most famous Italian wines, notoriousl...
The Ultimate Guide to Vegan Wine
How to know if a wine is Vegan? Unfortunately, not all wine is vegan. This may be a shock to many... While you might think that wines are simply fermented grape juice, so they must be vegan, you are sadly mistaken...